Product Summary
The FAN7317B is a LCD backlight inverter drive IC that controls P-N full-bridge topology using a new proprietyphase-shift method. The FAN7317B provides a low-cost solution and reduces external components by integrating full wave rectifiers foropen-lamp protection and regulation (patent pending). The operating voltage range of the FAN7317B is wide, soan external regulator isn't necessary to supply the voltageto the IC. The FAN7317B provides protections such as open-lampregulation, open-lamp protection,and short-lampprotection to increase the system reliability. The FAN7317B provides a burst-dimming function and analog dimming is possible, in a narrow range, by adding external components. The FAN7317B is available in a 20-pin SOIC package. The applications include LCD TV and LCD Monitor.
Parametrics
FAN7317B absolute maximum ratings: (1)OperatingTemperature: -25 to +85°C; (2)Package: 20-Pin Small Outline Integrated Circuit (SOIC); (3)PackingMethod: Rail; (4)Input Voltage Range: 13±10%.
Features
FAN7317B features: (1)High-Efficiency, Single-Stage Power Conversion; (2)Wide Input Voltage Range: 6V to 28V; (3)Backlight Lamp Ballast and Soft Dimming; (4)Minimal Required External Components; (5)Precision Voltage Reference Trimmed to 2%; (6)ZVS Full-Bridge Topology; (7)Soft-Start; (8)PWM Control at Fixed Frequency; (9)Burst Dimming Function; (10)Dynamic Contrast Ratio Function; (11)Programmable Striking Frequency; (12)Open-Lamp Protection (OLP); (13)Open-Lamp Regulation (OLR); (14)Short-Lamp Protection (SLP); (15)Thermal Shutdown (TSD); (16)20-Pin SOIC.
Diagrams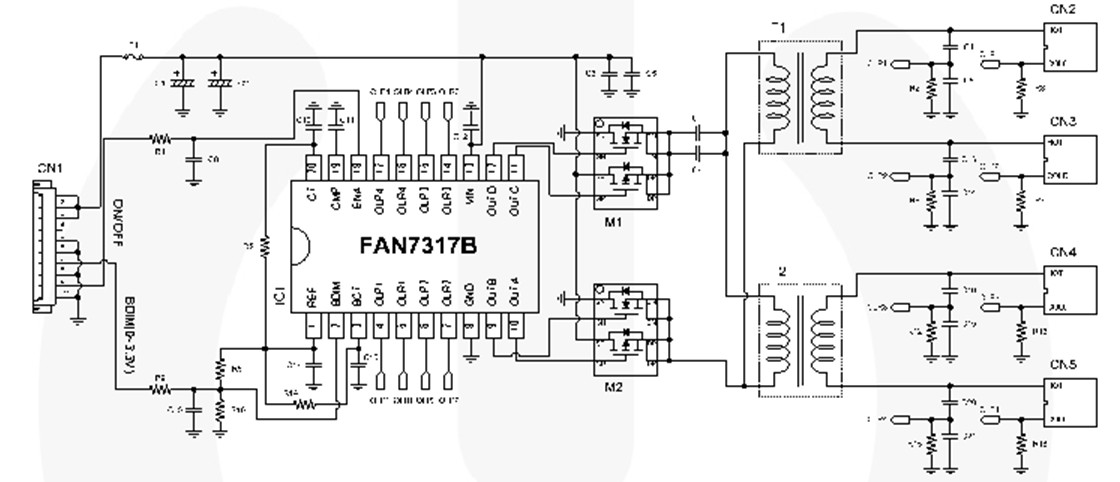 Image
Part No
Mfg
Description
Pricing
(USD)
Quantity

FAN7317BM

Fairchild Semiconductor

LCD Drivers LCD Backlight IC

Data Sheet

Negotiable

FAN7317BMX

Fairchild Semiconductor

LCD Drivers LCD Backlight IC

Data Sheet



| | |
| --- | --- |
| 0-1: | $0.90 |
| 1-25: | $0.70 |
| 25-100: | $0.64 |
| 100-250: | $0.55 |