Product Summary
The JS28F320 is an Advanced+ Book Flash Memory (C3) device, manufactured on Intel's latest 0.13 um and 0.18 um technologies, represents a feature-rich solution for low-power applications. The JS28F320 incorporates low-voltage capability (3 V read, program, and erase) with high-speed, low-power operation. Flexible block locking allows any block to be independently locked or unlocked. The JS28F320 supports read-array mode operations at various I/O voltages (1.8 V and 3 V) and erase and program operations at 3 V or 12 V VPP.
Parametrics
JS28F320 absolute maximum ratings: (1)Extended Operating Temperature:–40℃ to +85℃; (2)Storage Temperature:–65℃ to +125℃; (3)Voltage On Any Pin (except VCC and VPP) with Respect to GND:-0.5V to +3.7V; (4)VPP Voltage (for Block Erase and Program) with Respect to GND:-0.5V to +13.5V; (5)VCC and VCCQ Supply Voltage with Respect to GND:–0.2V to +3.6V; (6)Output Short Circuit Current: 100 mA.
Features
JS28F320 features: (1)Eight 4 Kword blocks, top or bottom parameter boot; (2)Up to 127 x 32 Kword blocks; (3)Fast program suspend capability; (4)Fast erase suspend capability; (5)Flexible SmartVoltage Technology: 2.7 V to 3.6 V read/program/erase, 12 V for fast production programming; (6)1.65 V to 2.5 V or 2.7 V to 3.6 V I/O Option:Reduces overall system power; (7)High Performance:2.7 V to 3.6 V: 70 ns max access time; (8)Lock/unlock any block; (9)Full protection on power-up; (10)Write Protect(WP#) pin for hardware block protection; (11)Intel Flash Data Integrator; (12)Supports top or bottom boot storage, streaming data (for example, voice); (13)Intel Basic Command Set; (14)Common Flash Interface.
Diagrams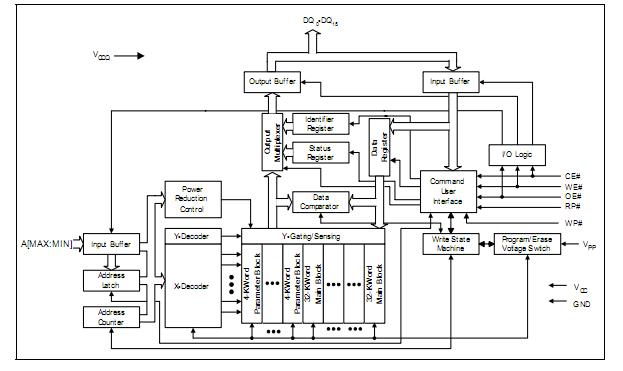 Image
Part No
Mfg
Description
Pricing
(USD)
Quantity

JS28F320C3BD70

Numonyx/Intel

IC FLASH MEM 3V 32MBIT 48-TSOP

Data Sheet



| | |
| --- | --- |
| 1-10: | $2.29 |
| 10-25: | $2.09 |
| 25-100: | $1.75 |
| 100-250: | $1.42 |
| 250-500: | $1.21 |
| 500-1000: | $1.13 |


JS28F320C3BD70A



IC FLASH 32MBIT 70NS 48TSOP

Data Sheet

Negotiable

JS28F320C3TD70



IC FLASH 32MBIT 70NS 48TSOP

Data Sheet

Negotiable

JS28F320J3D75A



IC FLASH 32MBIT 75NS 56TSOP

Data Sheet

Negotiable

JS28F320J3D75B



IC FLASH 32MBIT 75NS 56TSOP

Data Sheet

Negotiable

JS28F320J3D75

Other



Data Sheet

Negotiable

JS28F320J3D75D



IC FLASH 32MBIT 75NS 56TSOP

Data Sheet

Negotiable

JS28F320J3D75E



IC FLASH 32MBIT 75NS 56TSOP

Data Sheet

Negotiable