Product Summary
The ADC0834CCWM is a 8-bit successive approximation A/D converter with a serial I/O and configurable input multiplexers with up to 8 channels. The ADC0834CCWM is configured to comply with the NSC MICROWIRE serial data exchange standard for easy interface to the COPS family of processors, and can interface with standard shift registers or μPs. The ADC0834CCWM 4-channel multiplexer is software configured for single-ended or differential inputs as well as channel assignment. The differential analog voltage input allows increasing the common-mode rejection and offsetting the analog zero input voltage value. In addition, the voltage reference input can be adjusted to allow encoding any smaller analog voltage span to the full 8 bits of resolution.
Parametrics
ADC0834CCWM absolute maximum ratings: (1)Current into V+: 15 mA; (2)Supply Voltage, VCC: 6.5V; (3)Voltage Logic Inputs: -0.3V to VCC +0.3V; (4)Voltage Analog Inputs: -0.3V to VCC + 0.3V; (5)Input Current per Pin: ±5 mA; (6)Package: ±20 mA; (7)Storage Temperature: -65℃ to +150℃; (8)Package Dissipation at TA=25℃ (Board Mount): 0.8W; (9)Lead Temperature (Soldering 10 sec.) Dual-In-Line Package (Plastic): 260℃; (10)Molded Chip Carrier Package Vapor Phase (60 sec.): 215℃; (11)Infrared (15 sec.): 220℃; (12)ESD Susceptibility: 2000V.
Features
ADC0834CCWM features: (1)NSC MICROWIRE compatible—direct interface to COPS family processors; (2)Easy interface to all microprocessors, or operates "stand-alone"; (3)Operates ratiometrically or with 5 VDC voltage reference; (4)No zero or full-scale adjust required; (5)8-channel multiplexer with address logic; (6)Shunt regulator allows operation with high voltage supplies; (7)0V to 5V input range with single 5V power supply; (8)Remote operation with serial digital data link; (9)TTL/MOS input/output compatible; (10)0.3" standard width, 8-, 14- or 20-pin DIP package; (11)Surface-Mount Package.
Diagrams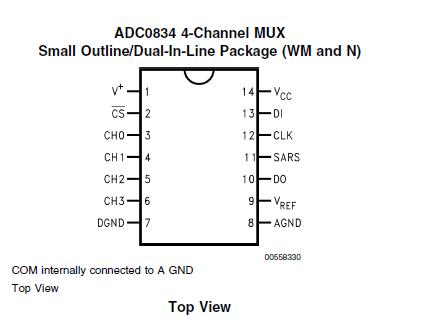 Image
Part No
Mfg
Description
Pricing
(USD)
Quantity

ADC0834CCWM

National Semiconductor (TI)

ADC (A/D Converters)

Data Sheet



| | |
| --- | --- |
| 0-350: | $1.17 |
| 350-500: | $1.03 |
| 500-1000: | $0.85 |
| 1000-2500: | $0.79 |


ADC0834CCWM/NOPB

National Semiconductor (TI)

ADC (A/D Converters)

Data Sheet



| | |
| --- | --- |
| 0-1: | $1.82 |
| 1-25: | $1.46 |
| 25-100: | $1.32 |
| 100-250: | $1.17 |


ADC0834CCWMX/NOPB

National Semiconductor (TI)

ADC (A/D Converters)

Data Sheet



| | |
| --- | --- |
| 0-1: | $1.82 |
| 1-25: | $1.46 |
| 25-100: | $1.32 |
| 100-250: | $1.17 |


ADC0834CCWMX

National Semiconductor (TI)

ADC (A/D Converters)

Data Sheet



| | |
| --- | --- |
| 0-1000: | $1.00 |
| 1000-3000: | $0.95 |
| 3000-5000: | $0.91 |