Product Summary
The LM2900N is a quadruple norton operational amplifier. The device consists of four independent, high-gain frequency-compensated Norton operational amplifiers that were designed specifically to operate from a single supply over a wide range of voltages. Operation from split supplies is also possible. The low supply current drain is essentially independent of the magnitude of the supply voltage. The LM2900N provides wide band-width and large output voltage swing. The LM2900N is characterized for operation from –40℃ to 85℃.
Parametrics
LM2900N absolute maximum ratings: (1)Supply voltage, VCC: 36 V; (2)Input current: 20mA; (3)Duration of output short circuit (one amplifier) to ground at (or below) 25℃ free-air temperature: unlimited; (4)Operating free-air temperature range: –40 to 85℃; (5)Storage temperature range: –65 to 150℃; (6)Lead temperature 1,6 mm (1/16 inch) from case for 10 seconds: 260℃.
Features
LM2900N features: (1)Wide Range of Supply Voltages, Single or Dual Supplies; (2)Wide Bandwidth; (3)Large Output Voltage Swing; (4)Output Short-Circuit Protection; (5)Internal Frequency Compensation; (6)Low Input Bias Current; (7)Designed to Be Interchangeable With National Semiconductor LM2900 and LM3900, Respectively.
Diagrams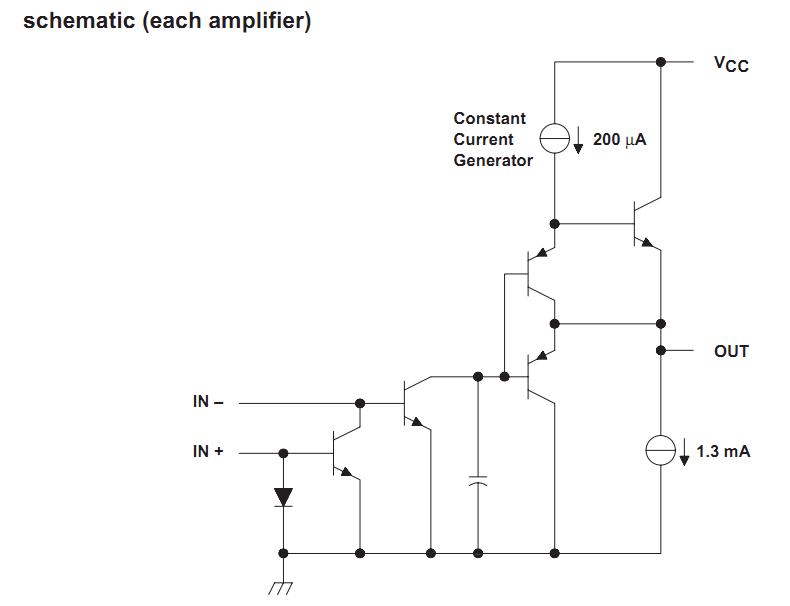 Image
Part No
Mfg
Description
Pricing
(USD)
Quantity

LM2900N

Texas Instruments

Operational Amplifiers - Op Amps Quad

Data Sheet



| | |
| --- | --- |
| 0-1: | $0.33 |
| 1-25: | $0.22 |
| 25-100: | $0.18 |
| 100-250: | $0.15 |


LM2900NE4

Texas Instruments

Operational Amplifiers - Op Amps Quad

Data Sheet



| | |
| --- | --- |
| 0-1: | $0.10 |
| 1-25: | $0.09 |
| 25-100: | $0.08 |
| 100-250: | $0.08 |