Product Summary
The LM224J is a low power quadruple operational amplifier. The LM224J consists of four independent high-gain frequency-compensated operational amplifiers that is designed specifically to operate from a single supply over a wide range of voltages. Operation from split supplies is also possible when the difference between the two supplies is 3 V to 30 V and VCC is at least 1.5 V more positive than the input common-mode voltage. The low supply current drain is independent of the magnitude of the supply voltage.
Parametrics
LM224J absolute maximum ratings: (1)Supply voltage, VCC: 32V; (2)Differential input voltage, VID: ±32V; (3)Input voltage, VI (either input): -0.3 to 32V; (4)Operating free air temperature range, TA: -25 to 85℃; (5)Storage temperature range: -65 to 150℃; (6)Case temperature for 60 seconds: 260℃; (7)Lead temperature 1,6 mm (1/16 inch) from case for 60 seconds: 300℃.
Features
LM224J features: (1)Wide Range of Supply Voltages: Single Supply: 3 V to 30 V, or Dual Supplies; (2)Low Supply Current Drain Independent of Supply Voltage: 0.8mA Typ; (3)Common-Mode Input Voltage Range Includes Ground Allowing Direct Sensing Near Ground; (4)Low Input Bias and Offset Parameters: Input Offset Voltage: 3 mV Typ; A Versions: 2 mV Typ; Input Offset Current: 2 nA Typ; Input Bias Current: 20 nA Typ; A Versions: 15 nA Typ; (5)Differential Input Voltage Range Equal to Maximum-Rated Supply Voltage: 32 V; (6)Open-Loop Differential Voltage Amplification: 100 V/mV Typ; (7)Internal Frequency Compensation.
Diagrams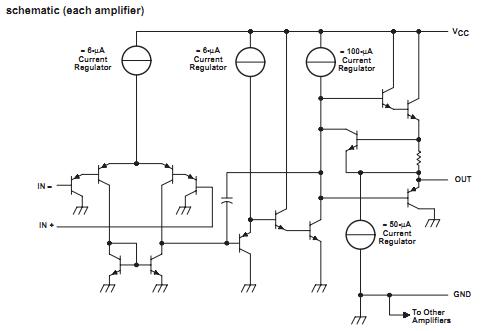 Image
Part No
Mfg
Description
Pricing
(USD)
Quantity

LM224J

National Semiconductor (TI)

Operational Amplifiers - Op Amps

Data Sheet



| | |
| --- | --- |
| 0-100: | $3.66 |
| 100-250: | $3.37 |
| 250-500: | $3.07 |
| 500-1000: | $2.67 |

Image
Part No
Mfg
Description
Pricing
(USD)
Quantity

LM2202

Other



Data Sheet

Negotiable

LM2202M



IC VIDEO AMP SYSTEM 20-SOIC

Data Sheet

Negotiable

LM2202MX



IC VIDEO AMP SYS 230MHZ 20-SOIC

Data Sheet

Negotiable

LM2202N



IC VIDEO AMP SYSTEM 20-DIP

Data Sheet

Negotiable

LM221

Other



Data Sheet

Negotiable

LM224

Other



Data Sheet

Negotiable